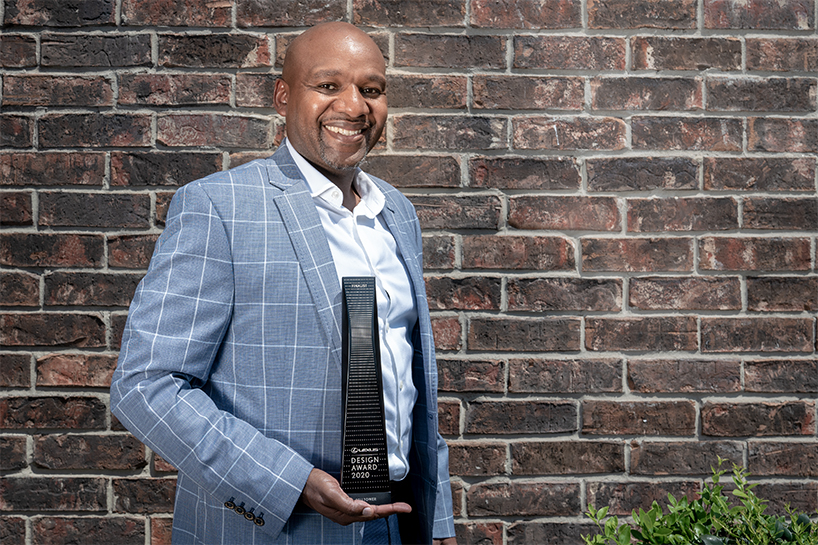 LEXUS DESIGN AWARD 2020 reveals winner through virtual grand prix
after 2,042 submissions from 79 countries were distilled down to the innovative work of six
after 2,042 submissions from 79 countries were distilled down to the innovative work of six finalists, LEXUS reveals the winner of the LEXUS DESIGN AWARD 2020. for the first time in its eight-year history, the winner is their first from africa and the first awarded through a virtual grand prix selection. the digital event reflected the brand's unwavering support to young creative talents even after the original exhibition was cancelled in april. it mirrored the founding principles of the award: to foster the growth of ideas that contribute to helping young creatives design a better future.
presented with a new trophy designed by their 2013 winner hideki yoshimoto of tangent, the grand prix winner of the LEXUS DESIGN AWARD 2020 goes to 'open source communities' by belltower from kenya.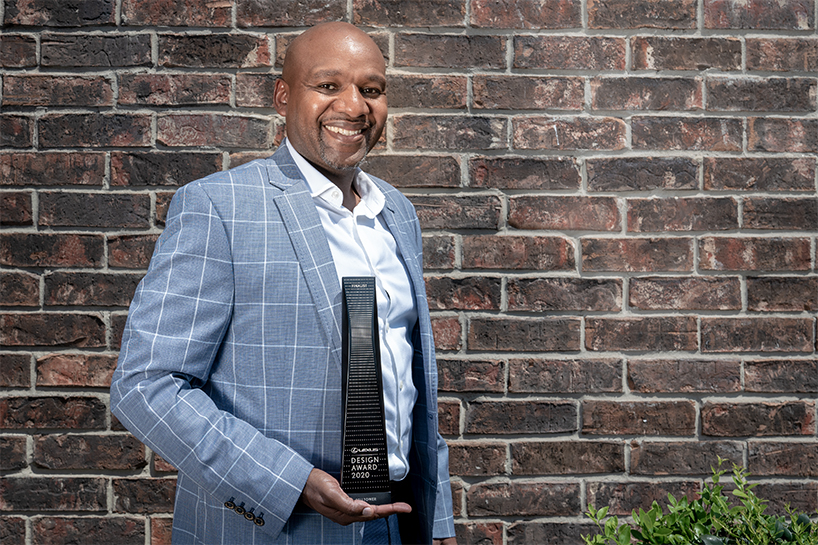 belltower: winners of LEXUS DESIGN AWARD 2020
all images courtesy of LEXUS
LEXUS DESIGN AWARD 2020 WINNER: OPEN SOURCE COMMUNITIES BY BELLTOWER
as the grand prix winner of the LEXUS DESIGN AWARD 2020, 'open source communities' by belltower addresses challenges often found in developing countries by using smart open-source planning to design affordable communities with sustainable clean water resources. established in 2014, kenya-based belltower features five members who combine skills in risk management, information technology, design, project management and strategy. the winning design proposes a pre-fabricated water resource center within a given community. made from locally available materials including eco-friendly bamboo and recyclable plastic compositions, the structure can be built by five trained builders in 10 days. the unique roof design, which is mechanically adjustable to offer natural lighting, cooling for shade and ventilation, has been shaped to maximize rain water catchment. it is estimated that 10,000 liters of rainwater can be collected and stored in an underground tank. the open-source model enables the community to adapt the system to their personal, corporate and industrial needs.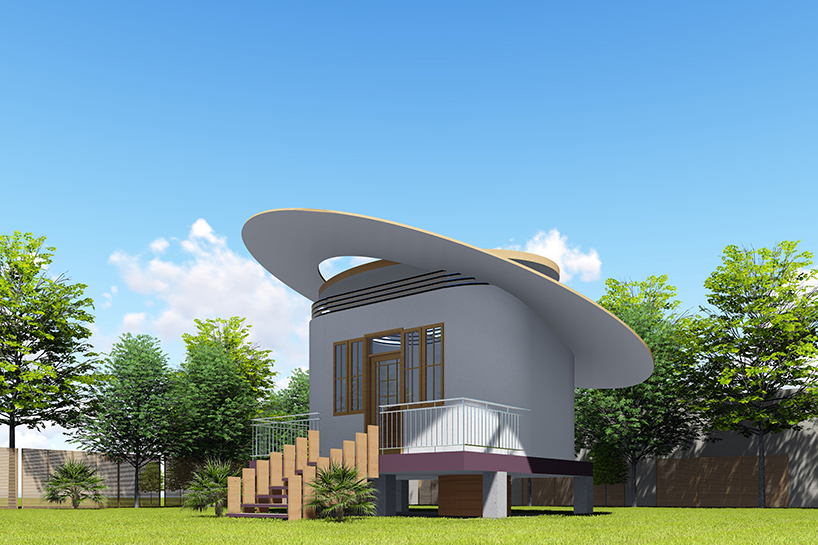 'open source communities' by belltower
'it was a great honor for us as belltower, to be one of the six finalists chosen in december 2019. our journey began with many challenges, however, we persevered to showcase our ambitious concept. our visit to MoMA helped us understand how the artists' diverse cultural, social and political positions are presented in thought-provoking modern and contemporary art styles. this inspiration helped fuel our creativity. during the workshops at INTERSECT BY LEXUS, the mentors helped us think about how to break down our problem and provide a prototype solution, all while building design and leadership principles throughout the process. our LEXUS DESIGN AWARD experience has taught us invaluable lifelong lessons. all our future designs will be aligned with the key principles as part of the LEXUS family,' comments john brian kamau, belltower.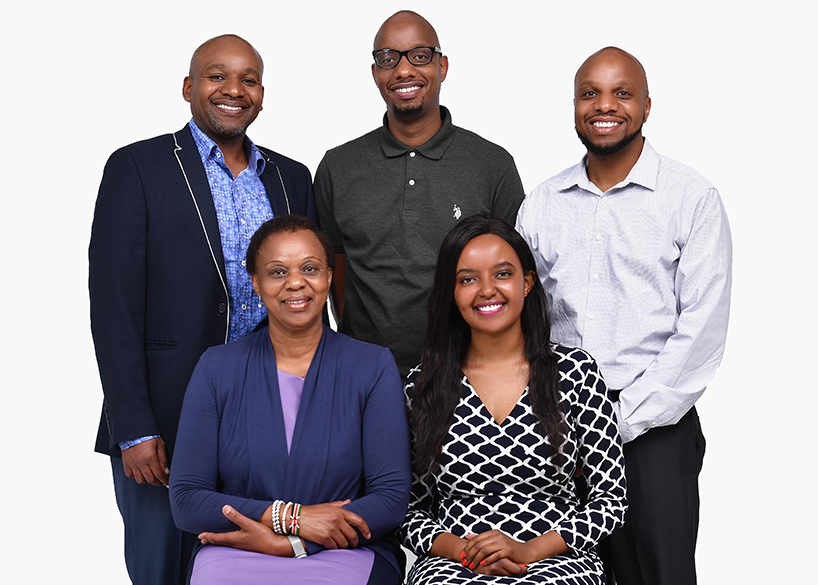 belltower
'I was deeply impressed with the finalists' commitment and dedication to improving their projects, in many cases greatly pivoting during the mentoring process. interestingly, the winner chosen by the judges had the greatest transformation from beginning to end. I hope all of the finalists inspire the next generation of designers to tackle larger problems which result in a better tomorrow,' mentions joe doucet, one of four mentors of the 2020 award.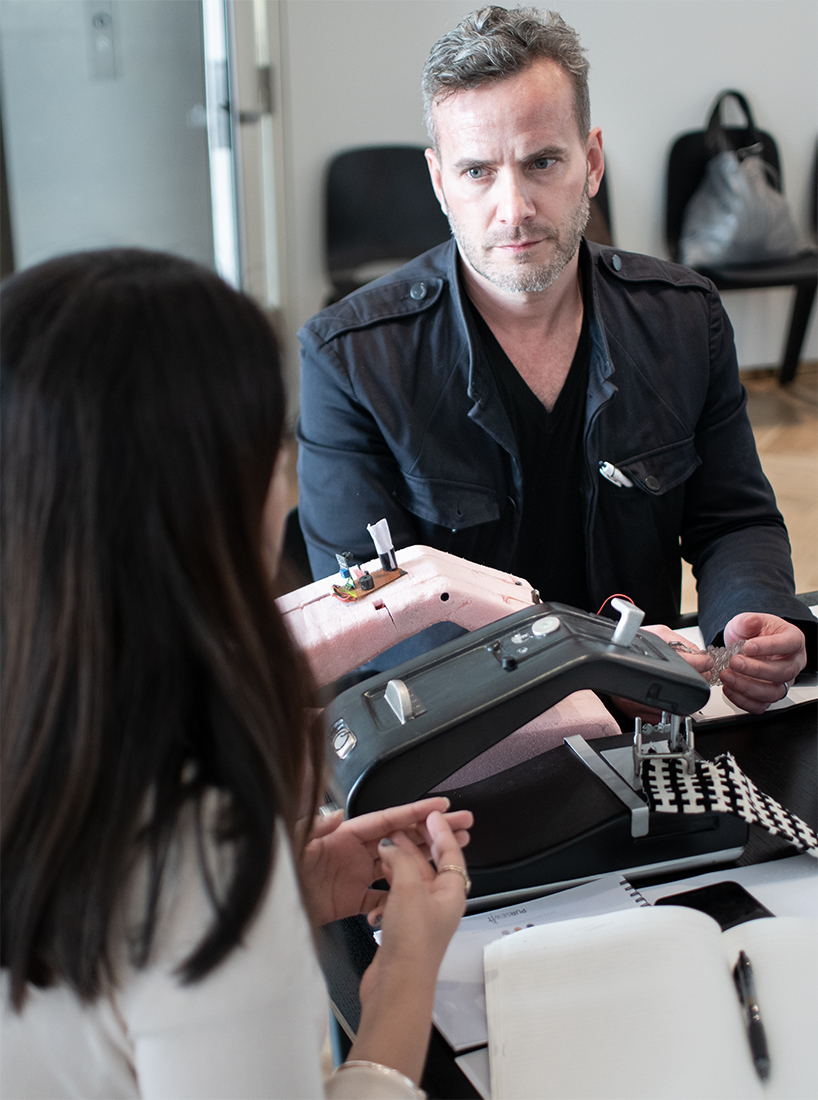 mentor joe doucet with finalist aqsa ajmal during the mentoring workshop in january 2020
every year, the mentors of the LEXUS DESIGN AWARD play an invaluable part in the platform's mission to help foster the growth of young creative talent. this is by providing unique one-on-one feedback to finalists in the build up to the grand prix selection. for 2020, the mentors took an even more important role in assisting the finalists. the four consisted of internationally acclaimed creatives joe doucet, new york-based designer; bethan gray, british designer; philippe malouin, british-canadian designer; and shohei shigematsu, lead architect at OMA new york. at a two-day workshop held at INTERSECT BY LEXUS in new york in january, the six chosen finalists received professional guidance to help them develop their ideas further and create excelling prototypes. they not only received in-person feedback but also ongoing support over the months building up to the virtual grand prix and presentations to judges. the mentors committed to leading a number of virtual sessions over these months.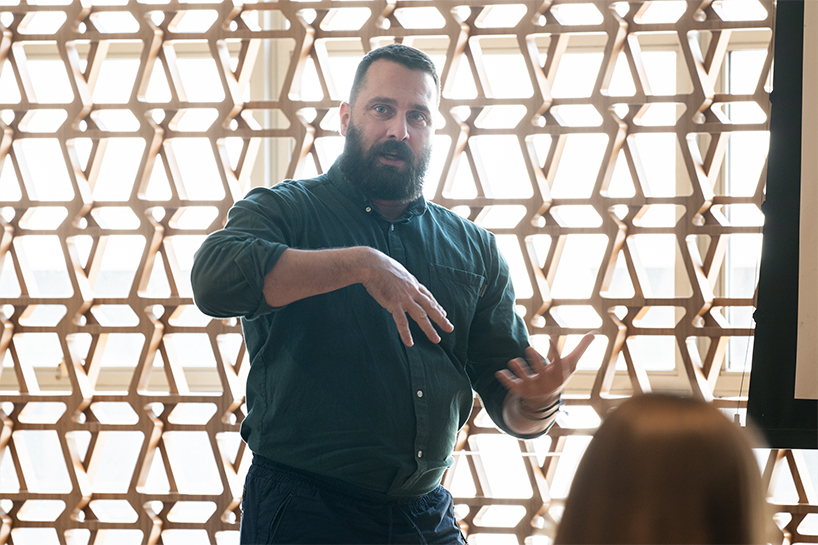 mentor philippe malouin during the mentoring workshop in january 2020
'the virtual grand prix selection has been a remarkable feat of organization. each of the contestants created a highly polished presentation respectively. I am glad to hear that the award was given to an entry that offered a design for a better tomorrow.' comments philippe malouin.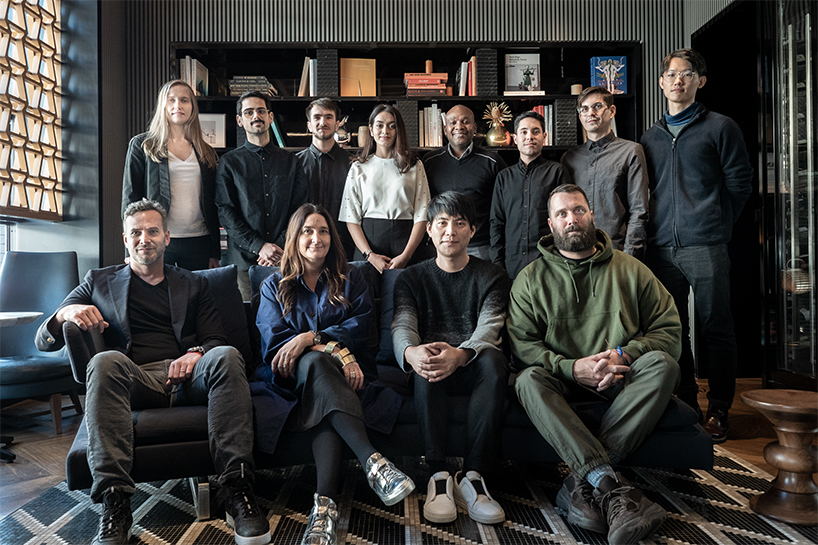 group photo from the mentoring workshop in january 2020
(left to right top) finalists of LDA 2020: irina samoilova, salvatore cicero, théophile peju, aqsa ajmal, arvin booker kamau, garrett sutherlin santo, paul sutherlin santo and yaokun wu
(left to right bottom) mentors of LDA 2020: joe doucet, bethan gray, shohei shigematsu and philippe malouin
all six finalists joined the mentors and judges to present their work at the LEXUS DESIGN AWARD's first ever virtual grand prix. the four esteemed judges included paola antonelli, curator; jeanne gang, founder and leader of studio gang; john maeda, technologist; and simon humphries, head of toyota & lexus global design. overall, the panel were impressed by the finalists' scope of work and the possibilities they all proposed to help create a better tomorrow. their criteria for judging was based on three key principles of the LEXUS brand: anticipate, innovate and captivate.
'at different moments in time, design has celebrated either bold aesthetics, extreme functionality, and even humor and wit. but today with our world plagued by the enormous issues of climate change and social inequality, there is a design imperative for systemic design solutions. the grand prix winner expands our definition of design to include systems of finance for community projects and engages the critical role clean drinking water plays in citizens' ability to thrive,' adds jeanne gang.
'because of the COVID-19 pandemic, many of our real life, physical experiences have moved online. in some cases, it's almost been for the better! although I have missed appreciating the physical prototypes, the focused attention the jury gave to the live, maybe virtual but certainly lively presentations made me feel closer to the finalists – who, by the way, were as excellent as ever, tackling important issues that relate to communities small and large, all over the world,' notes paola antonelli.


(left to right) judges of LDA 2020: paola antonelli, jeanne gang, john maeda and simon humphries
(portrait of paola antonelli by marton perlaki; portrait of jeanne gang © saverio truglia; and portrait of john maeda © julia hembree)
for eight years now, the LEXUS DESIGN AWARD has engaged as a launch pad for the next generation of creative leaders, from hideki as its first winner to belltower as their latest. an array of experience, prestige and international possibilities awaits the other finalists of 2020.
LEXUS DESIGN AWARD 2020 FINALIST: BIOCRAFT BY SUTHERLIN SANTO
based in the USA, sutherlin santo's biocraft combines natural biopolymers with emerging technologies. these enhance materials with advanced capabilities that better our health and environment. biocraft aims to replace inert products in our daily lives to actively engage with surroundings, such as by removing CO2 from the air.
'the most valuable element of the LEXUS DESIGN AWARD was that it allowed us to connect with fellow designers from all over the world, giving us access to new perspectives. through our interactions with our fellow finalists, with the mentors, and with the LEXUS DESIGN AWARD secretariat, we found ourselves pushed to develop our work in ways we may not have done without the support and guidance we were given. we entered this competition hoping to develop a single design, but we believe we're leaving it with a foundation for a design practice. this has been an invaluable and unforgettable experience that we will carry with us as we move forward,' states sutherlin santo.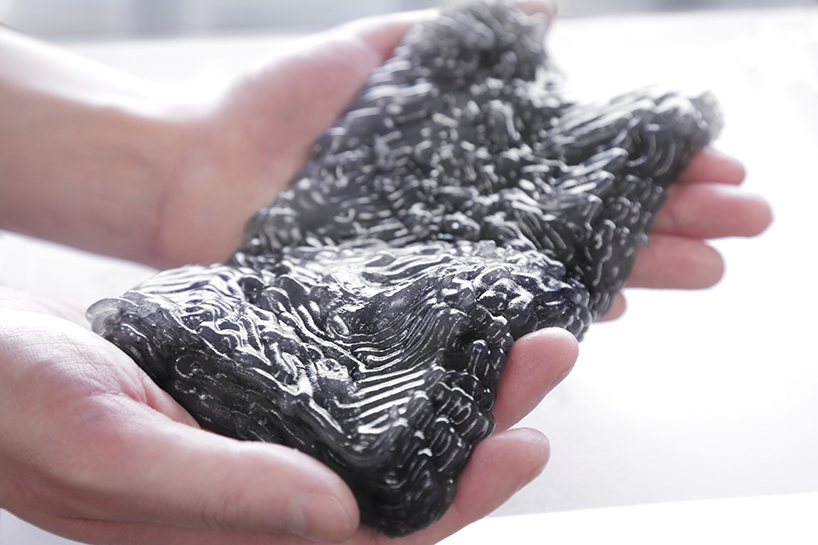 biocraft by sutherlin santo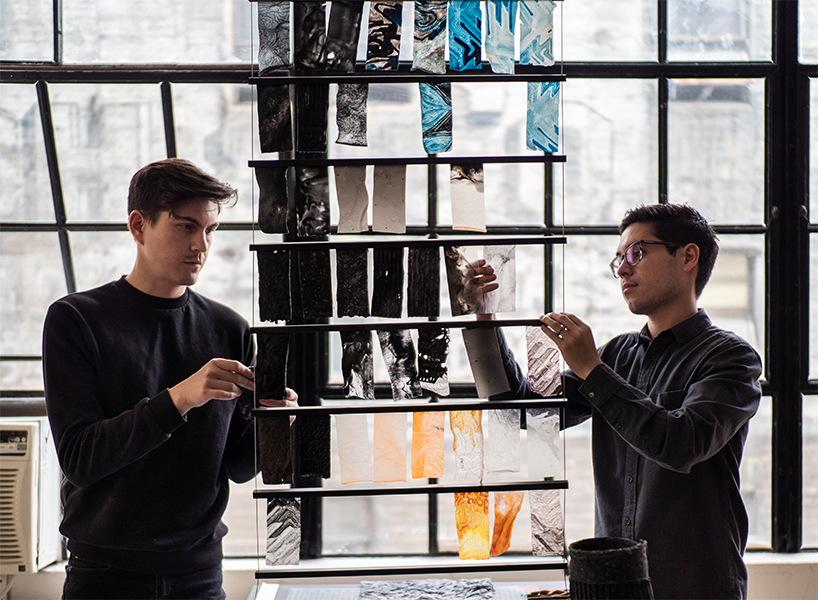 sutherlin santo
LEXUS DESIGN AWARD 2020 FINALIST: FELTSCAPE BY THEOPHILE PEJU AND SALVATORE CICERO
having studied in the UK, théophile peju and salvatore cicero's feltscape is a breathing cloud that fosters the philosophical idea of isolation. using innovative robotics to fabricate felt together with recycled bio-plastic, the cloud is integrated with sensors and kinetic mechanisms so that it will follow the user's breath. it gradually accelerates or decelerates guiding the occupant to inhale/exhale slower.
'as young designers our main goal is to challenge ourselves to give a small contribution to the world. LEXUS DESIGN AWARD gave us the chance to do so. an amazing panel of mentors, judges, and staff guided us along the journey. this experience has been full of surprises and, with the other finalists, we have been supporting each other to give our best. in spite of the unfortunate circumstances, LDA has been resilient and always tried to support us in the best possible way. we would not be more grateful to LEXUS for this lifetime opportunity. our life will always be influenced by this award,' concludes théophile peju and salvatore cicero.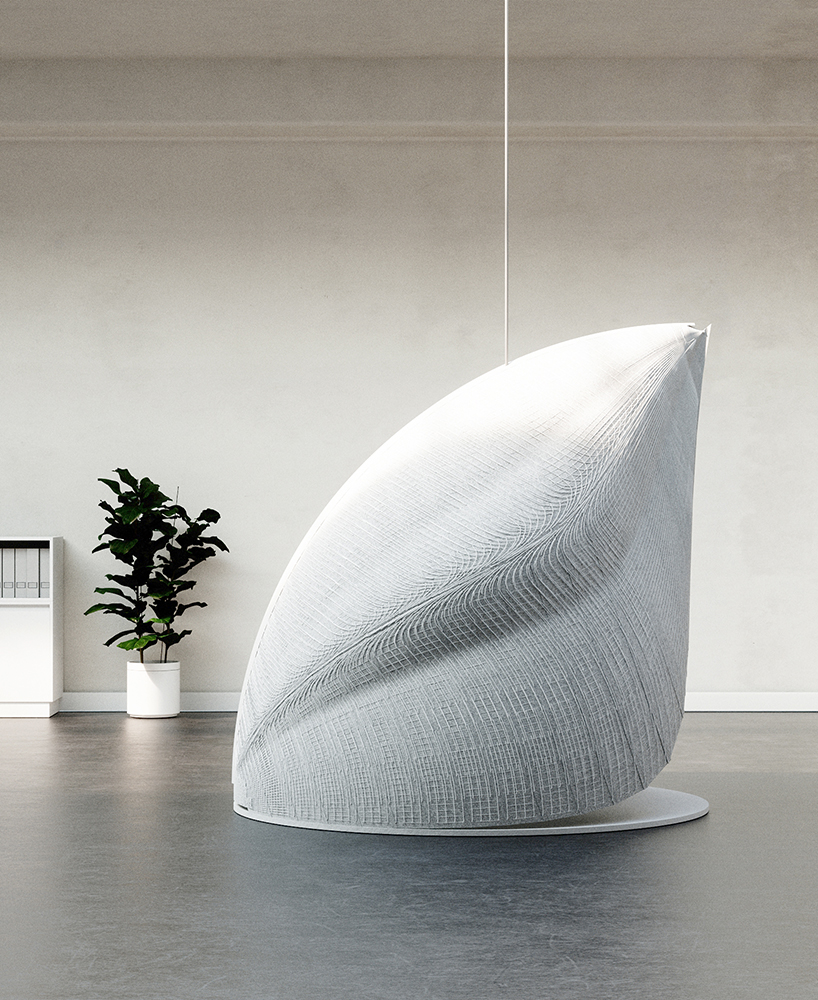 feltscape by théophile peju and salvatore cicero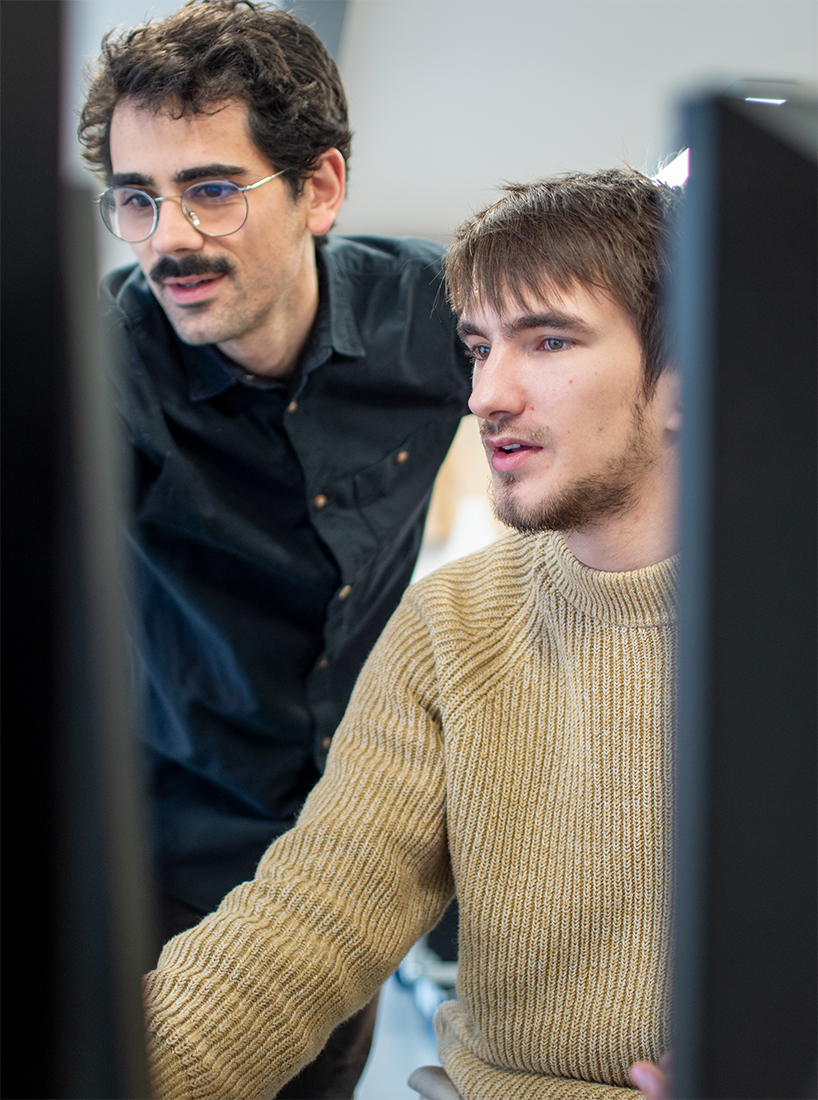 théophile peju and salvatore cicero
LEXUS DESIGN AWARD 2020 FINALIST: FLASH PAK BY YAOKUN WU
based in USA, chinese designer yaokun wu's flash pak ensures life jackets are easily accessible, especially for those living in high-risk flooding areas. this is by installing their containers to lamp posts. it utilizes the natural buoyancy of the life jacket to rise up the pole and constantly be above the water's surface, regardless of how high the water might be.
'I have felt extremely lucky since the day I was informed I had become one of the finalists of LEXUS DESIGN AWARD 2020. now, looking back on all the months I went through along with mentors and finalists, it was a life-changing experience and a great memory that I will never forget. I feel grateful that I have been able to meet and work with all these great mentors, designers, and staff. they kept me inspired and I have never felt more confident because of the obstacles I overcame in this journey. thank you LEXUS DESIGN AWARD for changing my life and inspiring me to keep working hard in the future. I believe this is not the end of our story and I hope one day we will meet again,' comments yaokun wu.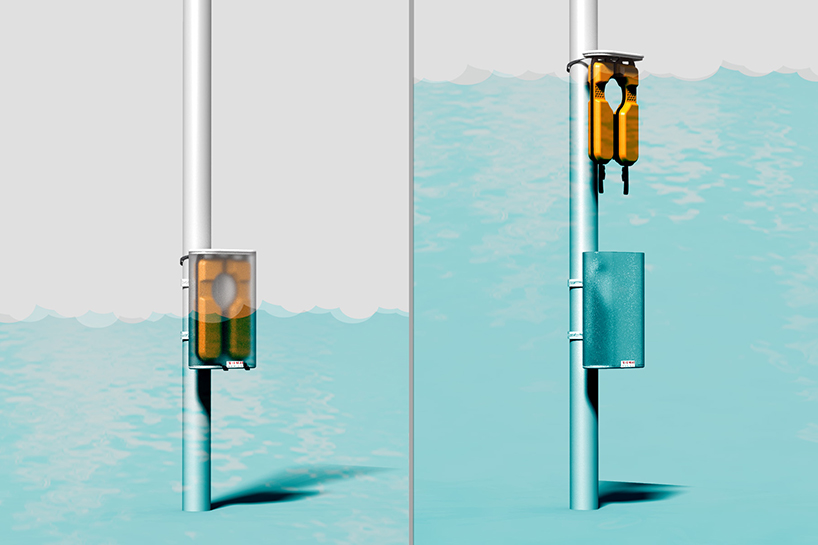 flash pak by yaokun wu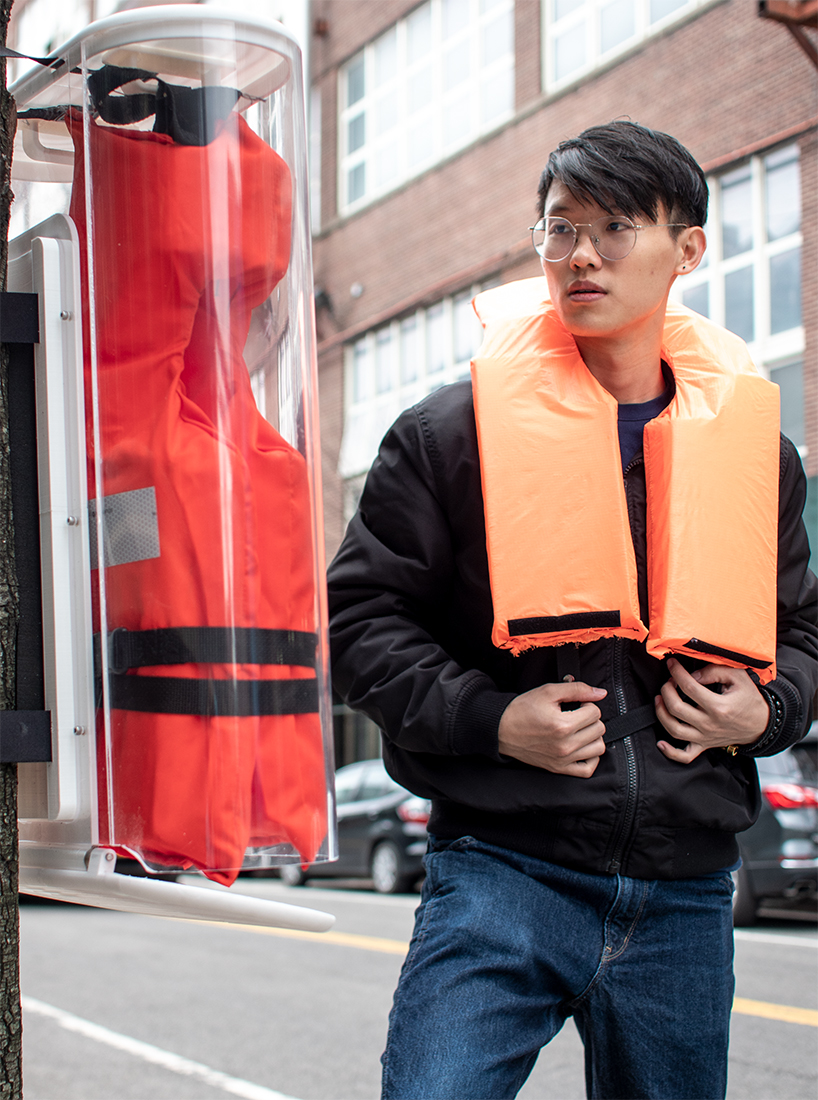 yaokun wu
LEXUS DESIGN AWARD 2020 FINALIST: L.I.C.K. BY IRINA SAMOILOVA
russian designer irina samoilova's L.I.C.K. is a portable body cleaner that will help people who are unable to use the bath. with a soft cleaning surface, the tool acts like a cat's tongue as it cleans the body of dirt and impurities. the surface itself features a U-shaped cavity and different hardness to aid a variety of cleaning tasks.
'I thought it was an accident that I was chosen as one of six finalists of the LEXUS DESIGN AWARD, as I had earlier heard an opinion that my invention is a crazy idea which is impossible to execute. I felt supported by the LEXUS DESIGN AWARD team, however, as world-class judges selected my idea of L.I.C.K. from thousands of other projects. I was invited to new york for a mentoring session with great, respected designers to help me to execute my idea. the follow-up mentoring and huge support of the LEXUS DESIGN AWARD team helped bring my idea to life. it became a real product, and soon I will present L.I.C.K. to the world at the milan 2021 exhibition,' adds irina samoilova.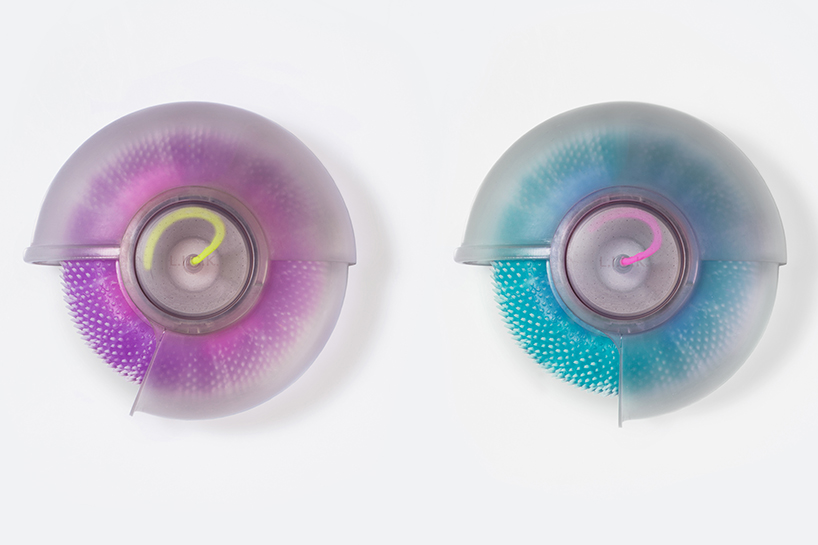 L.I.C.K. by irina samoilova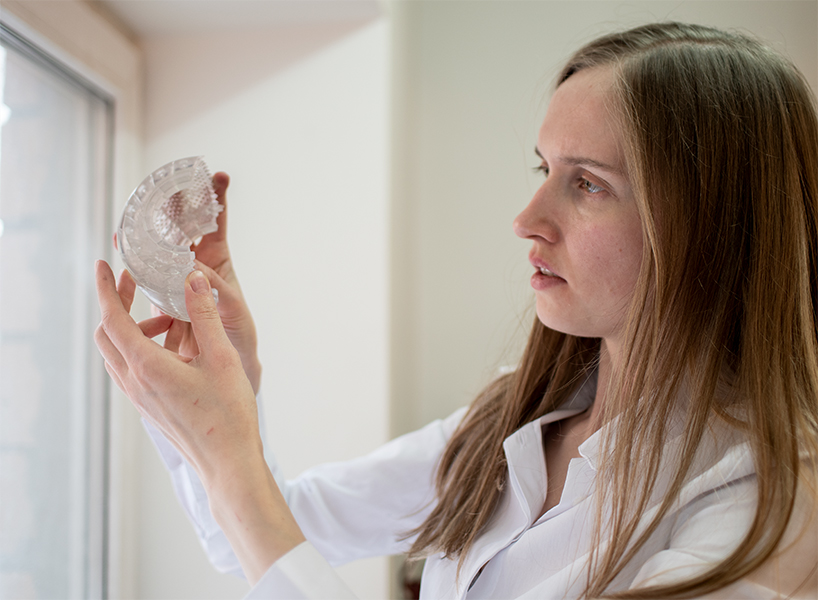 irina samoilova
LEXUS DESIGN AWARD 2020 FINALIST: PURSEWIT BY AQSA AJMAL
pakistani designer aqsa ajmal's pursewit encourages people to learn to sew through a provocative yet simplified design. the design firstly aims to simplifying the mechanism of sewing machine so that even the visually impaired can use it. operation is then made more intuitive and tactile to maintain user enthusiasm to continue developing their new skill.
'this is the first time I've had a chance to participate in such a prestigious competition. more importantly, what I learned from the process has become a treasure in my pursuit of my dream. it's an experience that changed my life in many ways. the mentorship program at new york was an incredible experience as I got a chance to get feedback from world class mentors and improve my work. in the process of exploring and experimenting, I was finally able to develop a functional prototype and test it with a legally blind person. thanks to LEXUS, I've had such a precious opportunity to show my abilities and skills in front of so many people. I believe such an experience will be a wonderful asset on my way to becoming a successful designer. it has already proven to be a perfect pathway for my initial steps in the design world,' notes aqsa ajmal.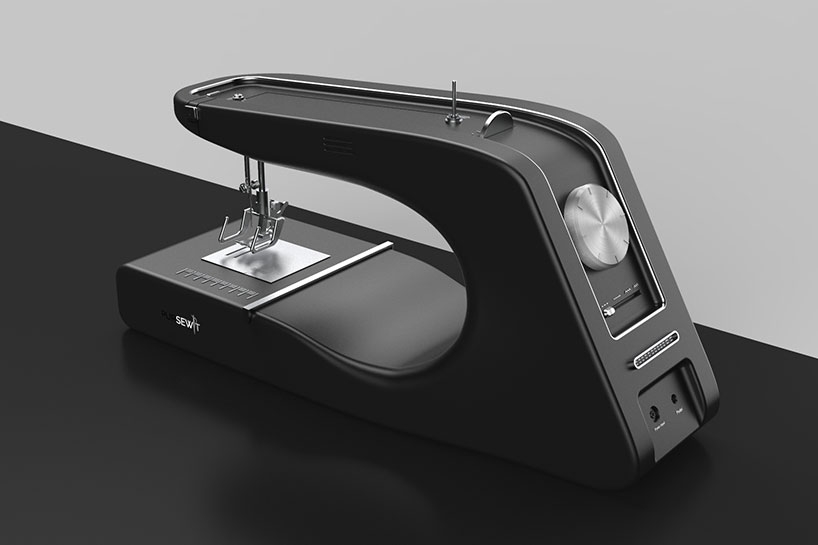 pursewit by aqsa ajmal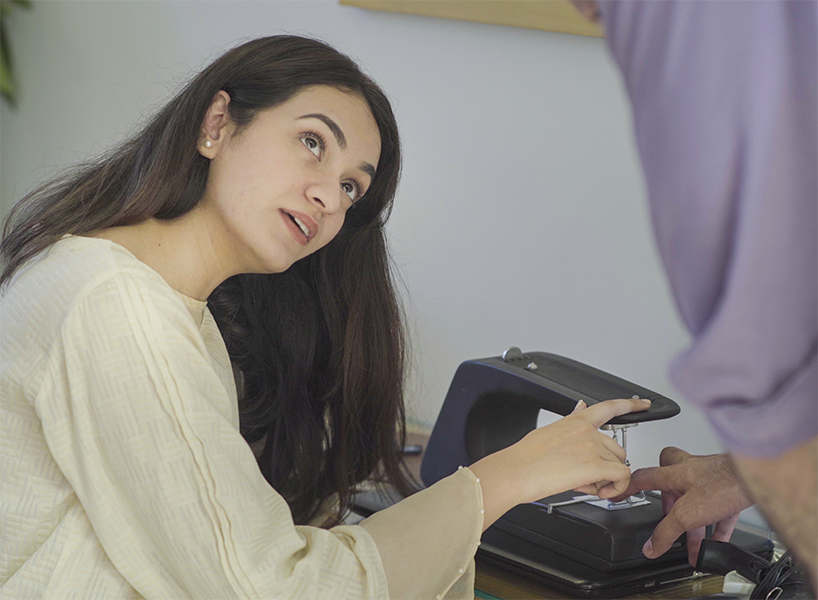 aqsa ajmal
hideki yoshimoto details his new trophy design for LEXUS DESIGN AWARD
the 2020 winner is the first to receive a new trophy designed by their 2013 winner hideki yoshimoto, who, after launching his career at the LEXUS DESIGN AWARD, has since gone on to found internationally-working yet london-based studio tangent. hinting at the famed grille form of the brand's vehicles, the handcrafted trophy resembles a subtly curved 'X' shape made from a simple prism divided into two surfaces. it was carved from smoke-seasoned wood, and then coated in a traditional japanese lacquer technique from the akita prefecture, called kawatsura, which gives the award an intriguing and ever-changing color that plays with lighting. the permanent trophy aims to reflect the passion, energy and power of each winner.
'this trophy will be the face of the award for years to come, so I tried to create s simple, dignified form, free of affection, in a design where boldness and subtlety coexist,' states hideki.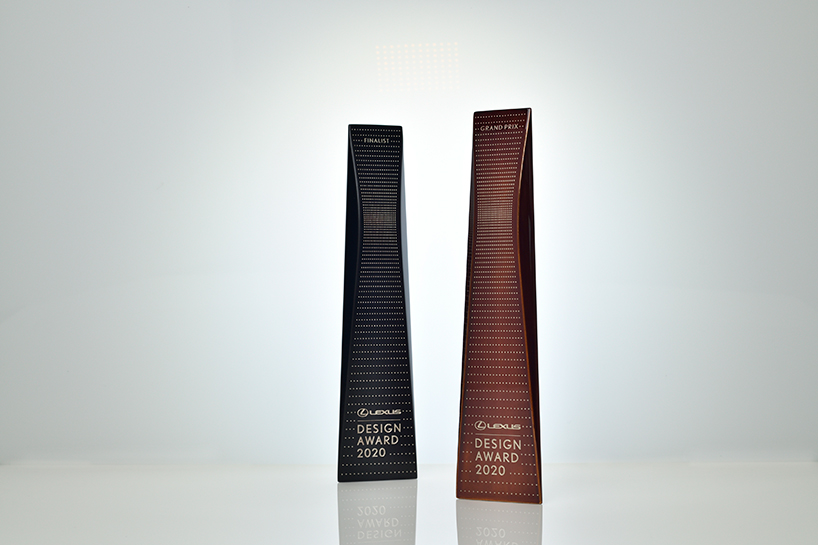 the finalist trophy (left) and grand prix winner trophy (right)
inspired to help design for a better tomorrow? enter the LEXUS DESIGN AWARD 2021 edition now, which can kickstart your creative career with an international platform, prototype funding and an invaluable mentoring program. with submissions open from june 30 to october 11, apply here!