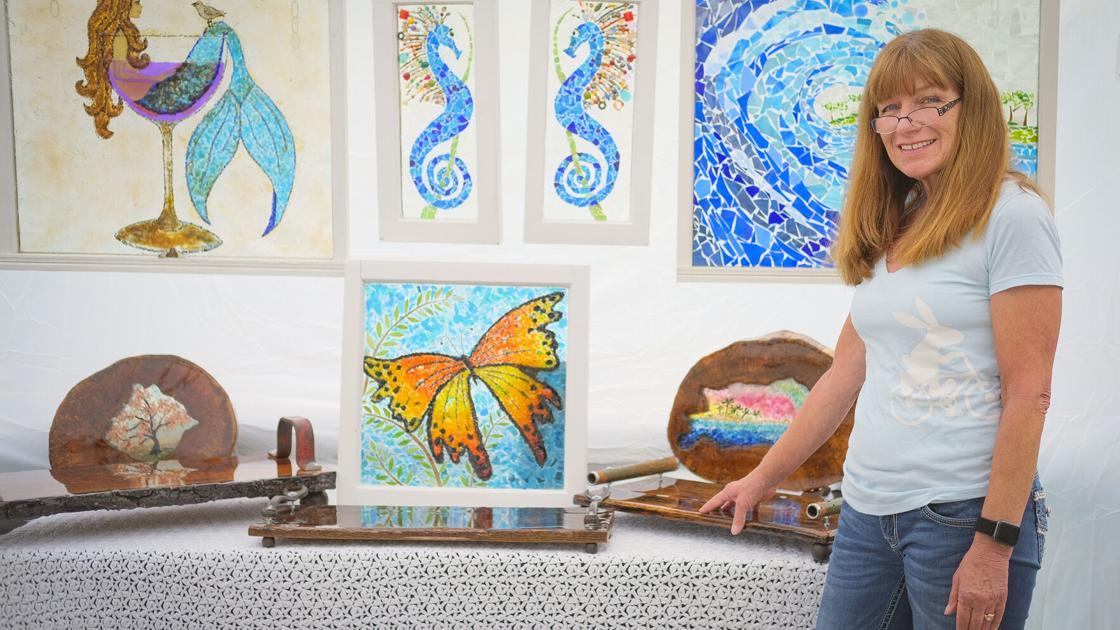 Artist turns recycled items into home decor | Arts
Artist Vanessa Mebel started using recycled materials to make automatons – those moving mechanical devices
Artist Vanessa Mebel started using recycled materials to make automatons – those moving mechanical devices – because her friends were into dolls.
"I was fascinated with the thought of trying to get these dolls mechanized to perform different feats and still be able to play music and this, that and the other," Mebel said.
Then came the September 11.
Mebel was on her couch working on an automaton, watching TV reports of the attacks.
"That was it," Mebel said. " I could never pick up another one of those again. I was traumatized. I think we all were traumatized by that."
For the next five years, she worked on a mural at an elementary school in Advance and later did murals for different people in their homes before progressing to what she calls "the real recyclables" in 2015.
Now, she makes home décor, especially from recycled glass.
"I'm having fun with it and there's plenty of glass to go around," Mebel, who lives in Advance, said.
She uses all types of recycled materials for her pieces, which include wall hangings, sculptures and lamps.
"Whenever a tree falls down, I will cut slices of it and do things with the wood, just whatever I find that looks like it can be something else and useful again," she said.
She also makes Madonna and Child pieces when she gets requests from people who have lost a loved one.
"It's like a painting but with glass," she said.
Mebel said she humanizes things.
"To me, if something or someone is broken, you've got to try to put it back together in some form or another to make it useful and live again….That's what recycled art is to me….You can take something that other people have thrown away and don't want and make it into something somebody else might enjoy."
Word has gotten out about her use of recycled materials.
"Now, people just bring me stuff," Mebel said. "It's kind of neat. I don't even have to go out looking anymore."
Q: How would you describe your art?
Answer: I consider myself to be an artist who has a good sense of re-imagining what something broken or discarded can be transformed into. All of the items I re-imagine are made from found, abandoned or donated items. Largely, scrap glass, old doors, windows, reclaimed wood, fallen trees, junk jewelry, old bottles, glasses, rusty junk or anything else that happens to wash up on the shores of my life. The art itself is usually very simple, happy and uncomplicated. Much like me.
However, on the flip side, I have been known to create some more meaningful, in-depth pieces. I was asked to create some Madonna and Child works out of glass and pieces of jewelry from loved ones who have passed over. Those pieces were each a labor of love. But each one has given me chills as I placed someone's personal items into the piece. Each of them was a complete privilege to create for those families.
Another very complex commissioned piece was from a man who wanted me to duplicate a glass version of his girlfriend's tattoo, which was a beautiful black, white and grey mermaid. So, I guess there's really two sides to my art.
Q: How have you evolved as an artist?
Answer: I used to be an oil and acrylic artist, spending most of my time painting whatever I felt inclined to paint. Then when 9-11 happened, I wanted to be nearer to my son while he was in school. So I volunteered at Shady Grove Elementary in Advance. As soon as they found out I was an artist, they put me to work on a five-year mural project in their library. As proud as I was of all that was accomplished there, I felt I needed a different artistic outlet going forward. That's when I saw someone who had stuck a wine bottle on an old window at an art fair. I thought that was a pretty cool idea that I wanted to explore. And so I started off on that idea and ran head long into creating just about anything out of recycled items. These days, I create everything from the glass mosaics to hors d'oeuvres trays. It's all great fun!
Q: Who has influenced your art?
Answer: They all do. Everyone from Pierre-Auguste Renoir to the person making interesting things at a craft fair.
Q: What is your biggest challenge?
Answer: Myself. I tend to be insecure about my art sometimes. I just have to keep reminding myself to lighten up and have fun with it. No sense in cutting off your own ear.
Q: What does art do for you?
Answer: Art gives me purpose as well as a sense of leaving something behind for others to enjoy.
Q: Any advice for other artists?
Answer: It might sound like a cliche, but try to have fun with it.