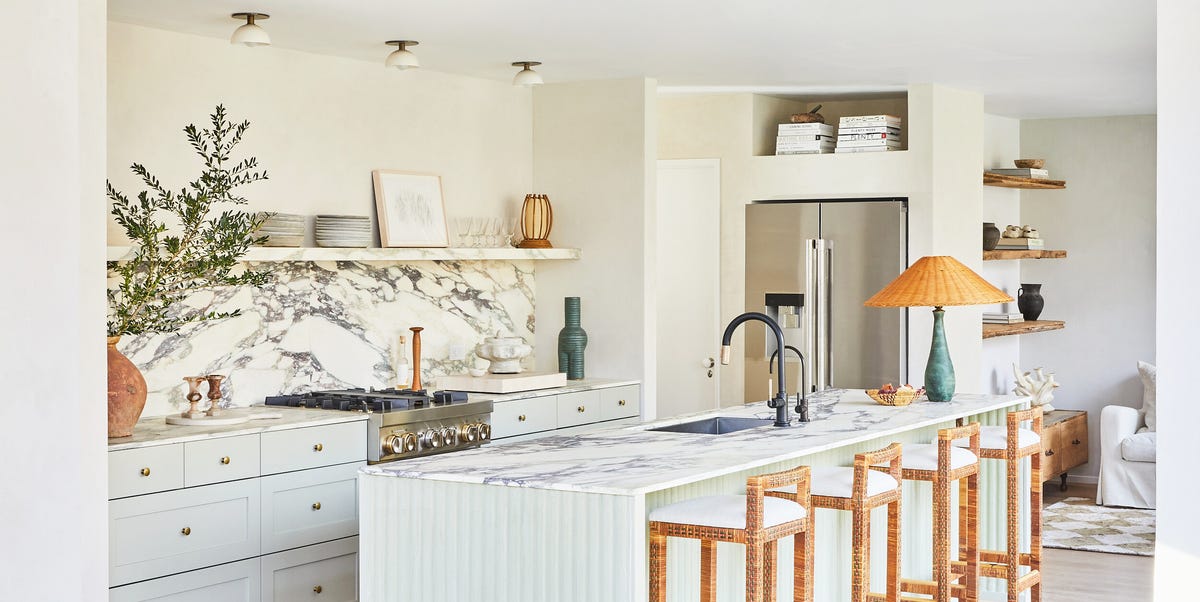 95 Kitchen Design & Remodeling Ideas
Nicole Franzen The kitchen is probably the most used room in your house, so you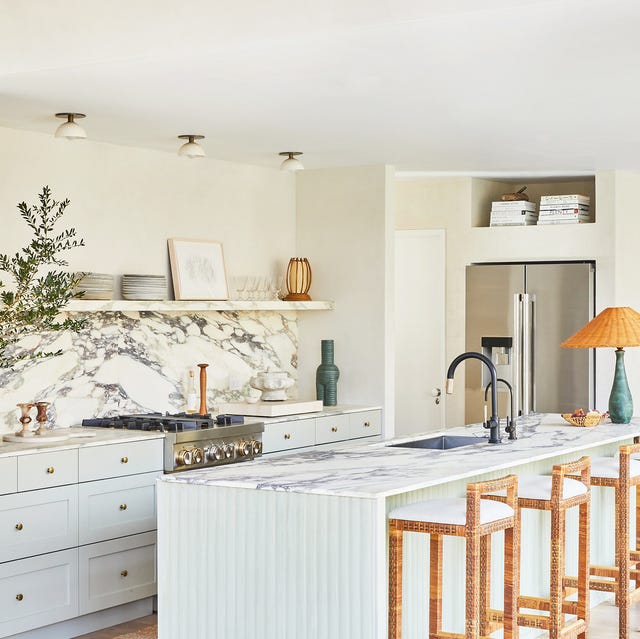 Nicole Franzen
The kitchen is probably the most used room in your house, so you want it to be a space you enjoy spending time in. And aside from functioning appliances, a kitchen design you'll love for years to come is of utmost importance. So whether you're renovating or simply looking for some inspiration, we found 90 kitchen design ideas that will help you optimize your own—and the best lessons to take from them. From country casual to sleek and modern—and literally everything in between–we've got all the kitchen remodel inspiration you could ever need. Gorgeous countertops, unique backsplashes, and statement lighting, we're coming for you.
1 of 95
Tile Your Hood
Cover your hood in the same material as your backsplash to make it look sleek and clean. Here, interior designer Heidi Caillier camouflaged a bulky appliance with zellige tiles.
2 of 95
Strike a Balance
This kitchen by Romanek Design Studio proves that balance is everything. The dark moody tile walls, sleek tile backsplash, and stainless steel appliances assert an undeniably glam aesthetic while the wood and brass tones ground the space and give it that classic classic Califorina warmth. The bohemian runner also adds just enough color and fun.
3 of 95
Mirror Your Surfaces
If you love shiny stainless steel and edgy mirrored surfaces, take the metallic look to the next level with a gold mirrored island. In this kitchen designed by Dries Otten, the island brings some glamour to the playful elements throughout, like the single pendant light, swirls of pink marble, and cobalt blue loft railing above.
4 of 95
Choose an Adventurous Wallpaper
This swirly wallpaper proves that making adventurous design decisions can pay off. In this kitchen designed by Rita Konig, the wallpaper in question is Antoinette Poisson's Jaipur. We love it even more paired with the rich purple-veined marble and painted cabinets. To protect it from water damage, Konig added an invisible glass over the wallpaper between the counter and cabinets.
5 of 95
Tuck It Away
Designed by Matthew Ferrarini, this kitchen is bursting with ingenious small-space solutions. He used folding wood pocket doors to conceal the entire counter and cabinet area against the wall. This would be a major game-changer in a studio apartment in particular.
6 of 95
Mix Different Tones of One Color
This Eric Olsen kitchen has serious tile game. If you live by the coast but want something moodier or you simply love blue, take not from the rich navy, gray, and cobalt tones throughout.
7 of 95
Add An Extra Sink
An extra sink in this California kitchen by Reath Design doubles as a place to arrange flowers, thanks to a spacious worktop corner nestled into a bright corner. The designers created extra storage below the sink for tools and other essentials by hanging pleated curtains from rods. The skirt, exposed bricks, terra cotta tiles, and pendant lamp all bring a country feel to the mode modern marble.
8 of 95
Never Underestimate the Accents
Now this is how you light up a room. In this Parisian apartment by Studio Razavi, the dramatically large, undulating pendant opens everything up in one sweep. A fun magenta carafe adds a pop of color to the industrial kitchen.
9 of 95
Cover It In Tiles
Designed by Studio Helder, this striking kitchen is completely covered in glossy dTiles. It straddles a unique line between retro and futuristic. Plus, they're easy to clean.
10 of 95
Create a Pattern With Backsplash
The pattern of the tiles in this kitchen by Studio DB changes ever so slightly as it crawls across the wall, creating a unique and chic non-repeating pattern.
11 of 95
Add Greenery
No room for a greenhouse or garden in your home? Start a mini plant collection in the kitchen instead. This way, you can exercise your green thumb and liven up the room (bonus: plant herbs for a truly useful indoor garden). In this kitchen designed by Hecker Guthrie, the glass cabinets add interest without making it feel cluttered.
12 of 95
Go Wild
Lacquer, marble, tiles, oh my! This fabulously over-the-top kitchen designed by Michelle Nussbaumer isn't afraid to have fun. For a similar look, choose a backsplash that corresponds with the kitchen island and then use tile on the floors.
13 of 95
Blend It All Together
A pale green blends seamlessly between the kitchen and dining area of this "jungalow," by Justina Blakeney, especially when paired with the Moroccan clay tile backsplash and ombre dining bar stools in the living room.
14 of 95
Embrace Existing Quirks
Rather than seeing the exposed pipe in this kitchen as a design flaw, Studio DB saw an opportunity for a fun pop of red. Now it looks like an edgy, industrial, unique, and colorful accent that anchors the kitchen and puts the stylish breakfast nook in the spotlight.
15 of 95
Try a Glass Backsplash
Subway tile isn't your only backsplash option. Danielle Colding Design used a glass backsplash for a shinier, more modern and cosmopolitan touch in this city apartment. They go perfectly with the lacquered cabinets.
16 of 95
Forgo Closed Cabinets
Hang cloth curtains in front of your bottom shelves to hide storage essentials instead of opting for classic cabinets—like in this boldly-colored kitchen architect Viola Simoncioni created for her own home. It feels decidedly more retro and adds some movement.
17 of 95
Try an Accent Wall
When space is limited, you have to find creative ways to add a little fancy flair. Here, interior designer Danielle Colding added a powder blue accent wall and a sculpture but kept everything else glistening and white. The Chanel tray on the counter for serving also doubles as decor.
18 of 95
Keep It Unfinished
The exposed brick walls add an undone, laid-back feel to this kitchen. Instead of covering them up or refinishing them, let your original architectural details stand out.
19 of 95
Paint Your Interior Cabinets
An inky, marine blue will ground a kitchen in an open space and feel more formal than a light color without being as moody and as dark as black. We also love the idea of painting the interior cabinets a color that corresponds with an accent piece in the room, like this orange cabinet designed by Arent & Pyke to match the carpet.
20 of 95
Cheer Things Up
Take note from this space designed by Leanne Ford Interiors and paint your kitchen a subtly sunny hue, like buttercream yellow. Then lay down an area rug with pops of coral for a fresh, bold anchor. The large drum pendant in white and gold speaks to the pretty paint color, too. Delicate and delightful.
21 of 95
Add a Serving Window
As seen in this Malibu kitchen by Romanek Design Studio, a serving window makes spaces feel more open and air but they also make life easier. Even better, they typically connect the kitchen to a backyard or deck space and promote indoor/outdoor living, so they're especially popular if you live somewhere warm and love to host al fresco dinners.
22 of 95
Rethink the Tile Pattern
For this Los Angeles kitchen, Jenn Feldman Designs chose a tonal grout to blend in with the navy tile, which is set in a refreshingly unexpected chevron pattern. It feels unexpected and interesting but fits in well since it matches the lower cabinets.
23 of 95
Go Big With Open Shelves
Have fun with open shelving, stacking plates and adding items that bring personality to the room as a whole. Try framed photos, candlesticks, and art. The retro red appliances are also definitely worth investing in if you love color and nostalgia.
24 of 95
Paint a Statement Wall
Instead of painting all of the cabinets or walls, experiment with color on a statement wall. This sage green pop in a kitchen designed by Studio DB adds the perfect amount of personality. Green glass shelves and a large green bowl tie back to the unexpected color.
25 of 95
Splurge on Stone Materials
In this kitchen designed by Corey Damen Jenkins, the wood tones, brown marble swirls, and beige bar stools warm up the crisp white staples while the metallic accents add some glam. Jenkins says the granite "was a bit of a sell. I told the clients to look at it as art. Of course, now it's their favorite thing."
26 of 95
Lacquer Your Cabinets
Go glam with a high-gloss deep red reminiscent of wine. The robust, full color adds so much depth and glamour. Proof? This kitchen by Nick Olsen, where geometric tiles pump things up to the next level.
27 of 95
Pull Up a Bistro Table
The light wood tones and metallic pendant warm up the otherwise cool space in this kitchen designed by Hecker Guthrie. This space also proves that a bistro round bistro table situated over the island makes a classic kitchen layout so much more interesting. And it's even fresher when you paint your bar stools a buoyant shade of mint green hue and hang a copper pendant light overhead.
28 of 95
Play With Pattern
If you've got space between your cabinets and your ceiling, you've got storage. Add wicker baskets and it's the perfect spot to keep lesser-used tools. In this kitchen designed by Michelle Nussbaumer, she chose a vibrant ikat print to embolden the entire area.
29 of 95
Alternate Finishes
We're really digging the alternating black and gray stained wood cabinets in this deVOL kitchen. The varied tones (plus texture) adds interest to a neutral space. The sandy beige walls keep things neutral but warms thing a little more than a crisp white or super light gray. The shearling chair cover warms up, too, and the interior window creates flow and spreads the light.
30 of 95
Accomodate the Pets
Designed by Matthew Quinn, this kitchen island was customized with a dog bed to accomodate the family's best friend.
Advertisement – Continue Reading Below
This content is created and maintained by a third party, and imported onto this page to help users provide their email addresses. You may be able to find more information about this and similar content at piano.io
This commenting section is created and maintained by a third party, and imported onto this page. You may be able to find more information on their web site.