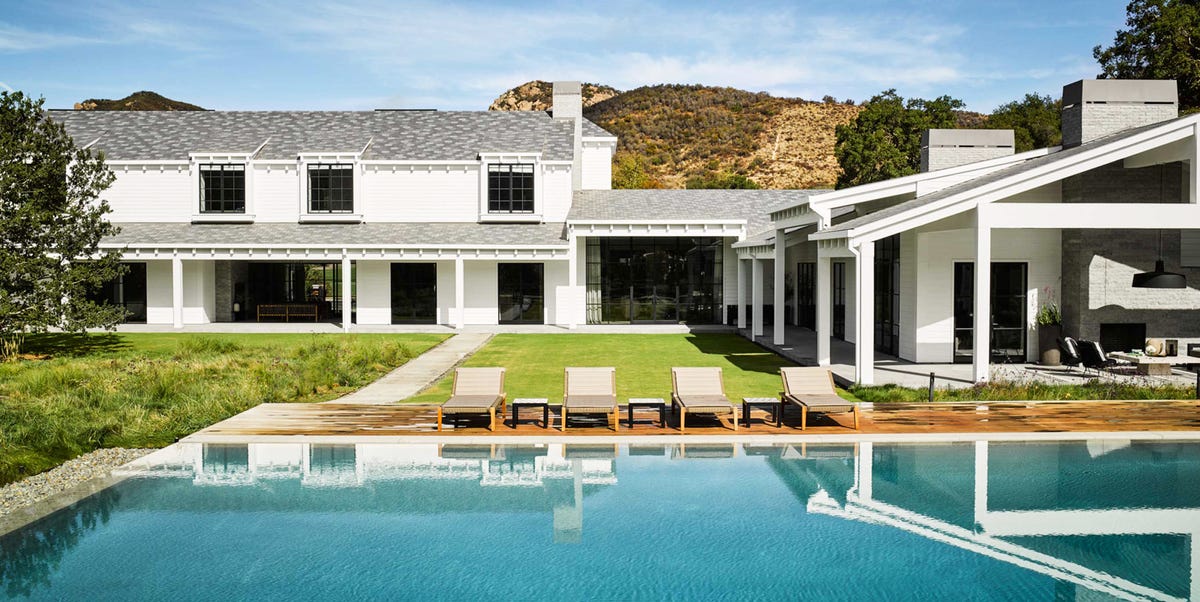 40 Breathtaking Backyard Ideas – Outdoor Space Design Inspiration
Nicole Hollis Studio As much as I love to get cozy in the living room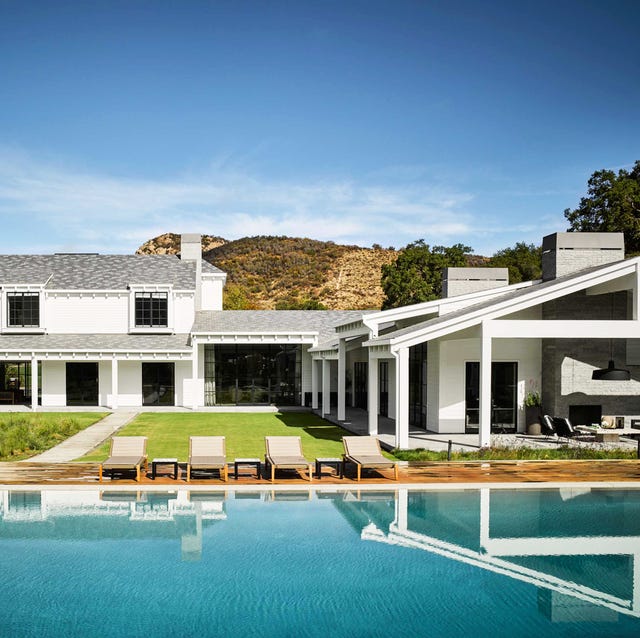 Nicole Hollis Studio
As much as I love to get cozy in the living room and lounge around in bed, a backyard is the true sanctuary—especially if it's prepped with all the right backyard bells and whistles. Indeed, your outdoor space can just as inviting, comfortable, and stylish as your interiors, but it also offers fresh air and nature. So it's the best of both worlds. From manicured landscapes to stately patios and paradise-status pools, get ready for some al fresco bliss with these 40 backyard ideas to help you get yours in shape for summer. And make sure you bookmark your favorites so you can bring them to life at home.
1 of 40
Reflect the Home's Architecture
Whether you're starting a project from the ground up or you're adding in a swimming pool to your backyard, make sure it's consistent with the style of your home's architectural roots so that everything flows and works together. On this property designed by Nicole Hollis Studio, the modern, dark pool tiles and clean lines reflect the open-air structure beyond.
2 of 40
Set Up a Yurt
If your space allows, set up a yurt in the backyard. It'll have so much functional range—use it as a glamping guest room, a pool house, or even just an outdoor living room/ entertaining area. Because they're well-insulated than tents but less permanent than an actual building, you can still hang out in them during the cooler months.
3 of 40
Make It Multi-Purpose
Set up distinct zones to get more use out of your outdoor space. Here, Studio Robert McKinley used different flooring materials to distinguish the separate hangout spots. The concrete flooring under the fire pit sitting area is durable and sturdy while the lawn functions as a nice segue to the pool. The concrete planter with red flowers and lush green plants is a nice transition, too.
4 of 40
Set Up an Outdoor Mudroom
Secure some hooks and slide in a bench to let your beach and pool gear dry instead of dripping throughout the house. Think of it like an outdoor mudroom. Nicole Hollis Studio opted for sleek, minimalist furniture and decor for an understated, stylish impression.
5 of 40
Focus on Landscaping
The backyard is your space to reconnect with nature and unwind in the fresh air. So instead of saturating it with furniture and décor, focus on landscaping and florals.
6 of 40
Invest in an In-Ground Swimming Pool
This in-ground swimming pool surrounded by a sun-dappled garden and canopy of trees is a backyard dream. Hang some string lights in the seating area for extra style points.
7 of 40
Upgrade Your Seating
Swing sofas are the perfect blend between benches and hammocks. Not only are they relaxing and comfortable, but they can also be visually intriguing, especially if you play with scale and proportion. Designed by Studio Life/Style, these super long ropes are the perfect example.
8 of 40
Create a Flower-Covered Pergola
The only thing more heavenly than this cottage's pool is the wisteria growing beside it. Shading a group of bistro chairs, the pergola provides the perfect lunch spot.
9 of 40
Get Inspired by Your Surroundings
This dining area blends in beautifully with the natural landscape. Opt for a rustic dining table with wooden tree trunk stools as dining chairs. It's, edgy, sleek, and sophisticated while still being approachable.
10 of 40
Build a Tree House
If your backyard opens up into an expansive forest—or even if you just have a few trees—now's your chance to build a treehouse. Or, if you don't want to build an entire house, just build a banister around it as a peaceful lookout deck.
11 of 40
Hang a Hammock
If you have a tiny outdoor space, you can still take advantage of the fresh air in style. Hang a slim hammock and then make it pop with a jute area rug, fun throw pillows, and floor cushions for extra seating.
12 of 40
Consider an Outdoor Kitchen
Alfresco dining is great, but cooking outside is even better. In a Key West house, the outdoor kitchen cabinets are made from old cypress shutters.
13 of 40
Install a Fountain
Wendy Owen used local fieldstone and water channels to create a scenic fountain on her Sonoma property. She took inspiration from historic structures in Provence.
14 of 40
Build an Outdoor Bar
Build a bar for more stylish entertaining outdoors. Choose an eye-catching tile design and hang string lights for a romantic, summery vibe.
15 of 40
Channel an English Garden
Designer Podge Bune went with traditional roses and hedges for her Hamptons cottage, but didn't worry about a color scheme. "I thought, 'Well, let's just have a riot,'" she says. "I'm so bored with all white."
16 of 40
Design a Clubhouse
An outdoor clubhouse like this one will make your backyard feel like a luxury resort in some far-away tropical destination. The built-in sofa and drum pendants make the rustic touches (like the straw roof) feel a little more elevated in this space.
17 of 40
Hang String Lights
Designer Jill Sharp Weeks used string lights to make her garden feel like an extension of her home. The space even includes an outdoor privy, the only bathroom on the ground floor.
18 of 40
Keep Things Minimalist
For a sleek, minimalist patio, whitewash your wood paneled deck and keep things tonal with a gravel garden instead of grass. Bring a heat lamp outside for warmth, so you can still hang out there during the chillier months. Floor cushions will be great for extra lounge seating.
19 of 40
Plant Your Own Citrus Trees
Elevate your backyard garden by cultivating a small citrus grove. Not only do the bright hues create a gorgeous visual landscape, but your fruit will also come in handy in the kitchen.
20 of 40
Spotlight a Garden Shed
Rebecca Vizard used a post office in Seaside, Florida, as the model for her petite garden shed. The spruce-colored fence is stained Sherwin-Williams's Shade Tree.
21 of 40
Make It Kid-Friendly
If you want to make your family home the go-to house in the neighborhood, take notes from this backyard situation. With an epic play structure, twisty water slide, and plenty of greenery, it has child-like glee written all over it.
22 of 40
Transform a Terrace
So you don't have a backyard but you do have a rooftop terrace? That can be just as magical when styled well. Bring in plenty of greenery, and then set up a little sitting area for dining or reading.
23 of 40
Spotlight a Water Feature
Take in a Charleston rental's water feature from the comfort of an outdoor swing. With a weeping willow overhead, the urban home feels like a private paradise.
25 of 40
Deck Out Your Dining Area
Rustic yet refined, a 10-foot-long table sits in the center of landscape designer Lisa Bynon's vegetable garden in Southampton, New York. A graphic cedar deer fence encloses formal raised planting beds.
26 of 40
Consider an Outdoor Shower
"Washing off the vineyard dust in an outdoor shower is a special treat for everyone, including the golden retrievers," says designer Rela Gleason of this clever space outside a Sonoma home.
27 of 40
Puncuate Your Lawn With a Fire Pit
Just looking at the incredible view in Thom Filicia's yard puts you in a more relaxing frame of mind. If you have a large lawn, consider building a fire pit hangout zone in the middle of it.
28 of 40
Cultivate a Garden
In the Cloister Garden of William Christie's 16th-century French countryside estate, the classic rose Katharina Zeimet stands out among the formal hedges.
29 of 40
Embrace Your Natural Surroundings
A manmade pond complements a solar geothermal house in Wassaic, New York. Landscape designers carved the pool out of a craggy mountain ledge and surrounded it with native plants.
30 of 40
Optimize It for Outdoor Games
Sonoma vineyards offer a picturesque view, but half the fun of this California cottage is the court for playing the French bowling game boules.
Advertisement – Continue Reading Below
This content is created and maintained by a third party, and imported onto this page to help users provide their email addresses. You may be able to find more information about this and similar content at piano.io
This commenting section is created and maintained by a third party, and imported onto this page. You may be able to find more information on their web site.